October 22nd, 2014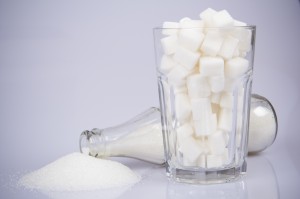 Halloween is a little over a week away… Candy bars, chocolates, and other sweets are right in your face in most grocers. But the problems with eating sugar go way beyond your waistline…
A new study shows that drinking sugary sodas may age your cells as much as smoking.
Researchers at the University of California San Francisco found that people who drank at least 20 ounces of soda a day were most at risk. They increased their cellular aging by an average of 4.6 years. But just not by way of oxidative stress or inflammation…
Drinking soda actually shortened subjects' telomere length.
We've told you about telomeres before… They're the protein "caps" on the end of DNA strands in your cells. As we get older, they get shorter. The problem is when they get too short to replicate, it causes cell death. This could mean looking older than you are… Even worse, it may cut your life short.
Having shorter telomeres may raise your likelihood of facing heart disease, diabetes, and Alzheimer's. It could also mean declining health…even early death.
Click here to read the full issue...